The Nikon 50mm f/1.4 is a secret weapon for low-light photography. Far more important than a fast ISO speed is the ability to gather light, which this lens does extremely well. In low light, this f/1.4 lens on a D80 should perform about as well as an exotic f/2.8 zoom will on a D3.
At less than $300 brand-new, this 50mm f/1.4 Nikon's fastest and least expensive super-speed lens. The next closest f/1.4 AF lens is the $1,000 85mm f/1.4 AF, or the discontinued 28mm f/1.4,which sold for $1,700 when you could get it new, and now sells for over $4,000 used since it's been discontinued.
I love this 50mm f/1.4 lens on my Nikon D3. It's fast f/stop makes it child's play to photograph just about anything hand-held. For casual people photography it's wonderful, since I can shoot at about 1/125 in dim indoors light at a reasonable ISO on my D3.
I just broke down and bought one for myself in October 2007, and with my D3, appreciate it much more than I ever did previously.
I have access to just about every lens made by Nikon, even the $1,700 24-70mm f/2.8 AF-S, and this 50mm f/1.4 AF-D is the lens most often on my camera for photographing my baby and family.
Why? Easy: it just works. The fast f/1.4 speed lets me shoot action, hand-held, in any light, and AF is super fast and accurate so that even at f/1.4 I get sharp photos. The $1,700 24-70mm f/2.8 AF-S doesn't seem to focus as fast, and it's two stops (four times!) less sensitive in low light.
I've hated 50mm lenses since the 1970s, but now that I have a D3 and a kid or two, there is nothing like it. I also have an 85mm f/1.4, but it doesn't focus as fast. The 50mm f/1.4 is not that expensive, and it's better than many lenses costing far more for the things I photograph with it.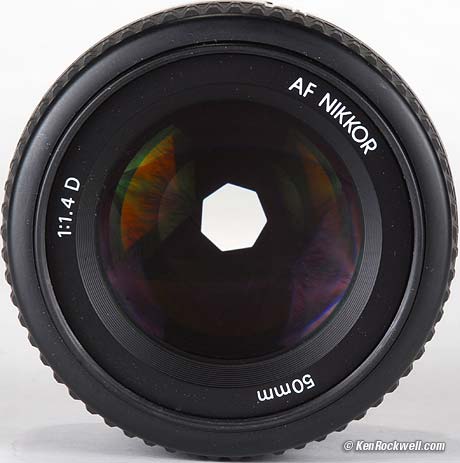 Nikon 50mm f/1.4 D at f/5.6.
Compatibility
As a traditional AF lens, the Nikon AF-D 50mm f/1.4 works on a broader range of Nikon cameras than any other. Except that it won't autofocus on the D40, D40x, or D60 and that you'll have to have an AI coupling prong to the aperture ring for coupled metering with antediluvian Nikons made before 1977, this lens works perfectly with every Nikon ever made over the past 30 years.
See Nikon Lens Compatibility for details on your camera. Read down the "AF, AF-D (screw)" column for this lens.
Production History
All Nikon 50mm f/1.4 lenses have always been at least single-coated and have had seven element designs. Except as noted, they have their 7 elements in 6 groups.
1950-1962: The world's fastest lens in 35mm photography, Nikon made their first 50mm (5cm) f/1.4 lens for their rangefinder cameras in S mount. THese aren't compatible with any popular camera made in the past 50 years. THe 7 elements were were in 3 groups. Nikon made about 100,000 of these.
1959-1962: Nikon made a 58mm f/1.4 manual focus lens, Nikon's first for SLR cameras. Nikon made about 40,000 of these.
1962-1976: Nikon's non-AI 50mm f/1.4 had its 7 elements in 5 groups. It came in several cosmetic variations and became multicoated in 1973. Nikon made about 1-1/3 million of these.
1977-today: Nikon's AI and AI-s manual-focus 50mm f/1.4 lenses are all multicoated. The current AI-s version brags that "all air surfaces are multicoated." Nikon has made almost 2 million of these, and is still making them.
1986-1991: Nikon's first AF 50mm f/1.4 had a nasty, thin, hard plastic focus ring. Nikon only made about 80,000 of these before they improved it. Photographers hated the focus ring.
1991-1995: Nikon's 50mm f/1.4 AF-n returned to a rubber focus ring. Nikon made only about 65,000 of these. AF was not yet used professionally, and amateurs preferred zoom lenses.
1995 - Today: The current AF-D version added coupling electronic distance information to the camera for more consistent exposure metering, especially with flash. Nikon has made about 300,000 of these, and still makes them.
Specifications
Name: Nikon calls this the Nikon AF Nikkor 50mm f/1.4 D.
Optics: 7 seven elements in 6 groups. Traditional spherical design, multicoated.
Diaphragm: 7 straight blades stopping down to f/16.
Close Focus: 1.5 feet (0.45 meters).
Hard Infinity-Focus Stop: Yes.
Depth of Field Scale: Yes, for f/11 and f/16.
Infra-red Focus Index: Yes.
Filter Thread: 52mm, Nikon's standard for small lenses since 1959.
Size: 1.658" extension from flange by 2.542" diameter (42.13 x 64.58mm) when focused at infinity, as measured by me. Nikon specifies 1.7 x 2.5" (43 x 63mm). It extends an additional 0.287" (7.30mm) when focused at 1.5 feet (0.45m).
Weight: 8.080 oz. (229.1g) as measured by me. Nikon specifies 9 oz (260g).
Hood: HR-2 folding rubber hood.
Nikon Product Number: 1902, in catalog as of spring 2008.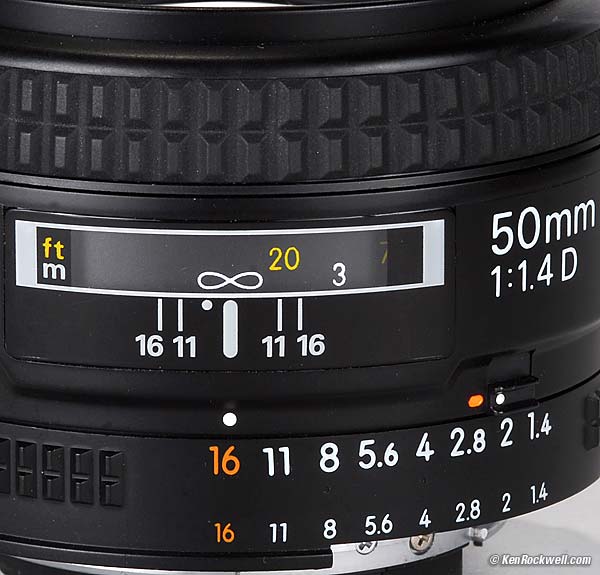 Control Surfaces, Nikon Nikkor 50mm f/1.4 D.